CURRENT PROPAGATION CONDITIONS.: Solar-terrestrial indices for 15 July follow. Solar flux 72 and estimated planetary A-index 4. The estimated planetary K-index at 1200 UTC on 16 July was 2. No space weather storms were observed for the past 24 hours. No space weather storms are predicted for the next 24 hours.
ALERT CONDITION: WHISKY ( WHITE )
Monday, July 16, 2018 - 13:46 GMT - UPDATE # 28
OPERATIONAL FORECAST. - GEOMAGNETIC FIELD. The geomagnetic field is expected to be at quiet to unsettled levels on day one (16 Jul) due to influence from a recurrent, negative polarity CH HSS. Days two and three (17-18 Jul) should be mostly quiet as CH HSS effects diminish. .- SOLAR ACTIVITY. Solar activity is expected to be very low all three days (16-18 Jul).
G/S/R SCALES USED DEF'S USED LIGHTNING - (QRN)
---
HF OPERATIONAL BRIEFING - CURRENT CONDITIONS IN DETAIL
CURRENT SOLAR CONDITIONS
---
VISIBLE DISK
---
SOLAR MAGNETOGRAM
---
NEAR INFRARED
---
SUNSPOT TRACKING
Solar activity was very low under a spotless solar disk. An 8 degree long filament erupted along a NE-SW oriented channel centered at N15E44, first observed on GONG imagery at 16/0712 UTC. No Earth-directed CMEs were observed in available satellite imagery.
---
RADIO BLACKOUTS - SOLAR STORMS - GEOMAGNETIC STORMS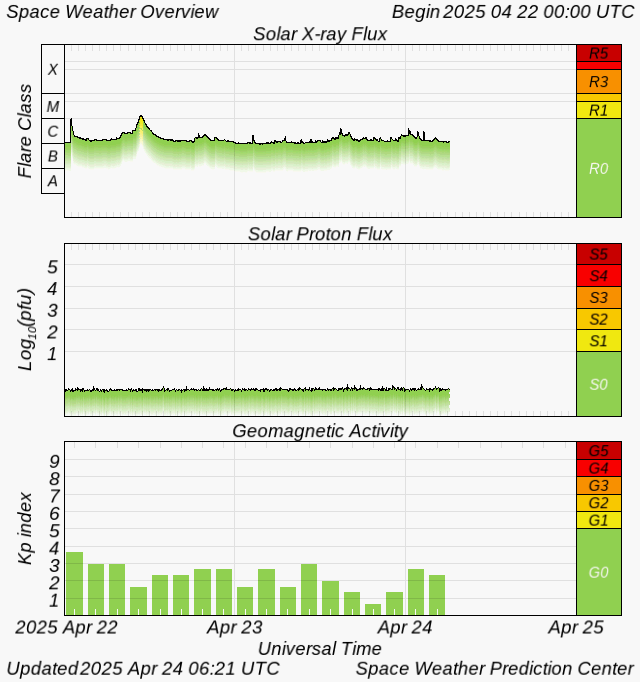 The geomagnetic field was at quiet to unsettled levels due to weak, negative polarity CH HSS effects.
---
"D" LAYER - HF ATTENUATION LEVELS
---
AURORA - NORTH POLE - SHORT PATH