CURRENT BAND CONDX = Solar-terrestrial indices for 18 August follow. Solar flux 80 and estimated planetary A-index 21. The estimated planetary K-index at 0300 UTC on 19 August was 5. Space weather for the past 24 hours has been minor. Geomagnetic storms reaching the G1 level occurred. Space weather for the next 24 hours is predicted to be minor. Geomagnetic storms reaching the G1 level are expected.
ALERT CONDITION: YANKEE ( YELLOW )
Saturday, August 19, 2017 - 03:21 GMT - UPDATE # 7
OPERATIONAL FORECAST. - GEOMAGNETIC FIELD. The geomagnetic field is expected to be at unsettled to active levels on 19-21 Aug as positive polarity CH HSS influence persists. .- SOLAR ACTIVITY. Solar activity is likely to be low with a slight chance of M-class flares (R1-R2; Minor-Moderate radio blackouts) all three days of the forecast period (19-21 Aug).
G/S/R SCALES USED DEF'S USED LIGHTNING - (QRN)
---
HF OPERATIONAL BRIEFING - CURRENT CONDITIONS IN DETAIL
CURRENT SOLAR CONDITIONS
---
VISIBLE DISK
---
SOLAR MAGNETOGRAM
---
NEAR INFRARED
---
SUNSPOT TRACKING
Solar activity increased to low levels. A long-duration C4 x-ray event was observed at 18/2002 UTC from an area of enhanced brightening on or just behind the E limb. Region 2671 (N11E22, Fkc/beta-gamma) remained the only spotted region on the disk and produced a few B-class flares as well as a C2/1n flare at 18/2104 UTC. Region 2671 continued its growth phase with trailer and intermediate spot growth and an overall increase in spot count. No Earth-directed CMEs were observed in available coronagraph imagery.
---
RADIO BLACKOUTS - SOLAR STORMS - GEOMAGNETIC STORMS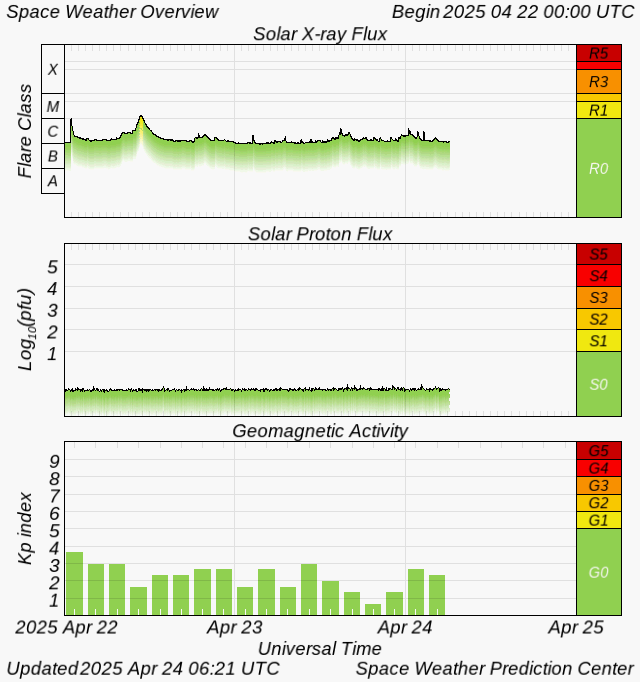 The geomagnetic field remained under positive polarity CH HSS influence. Field conditions were at mostly quiet to active levels with an isolated minor storm interval (G1-Minor) late in the period.
---
"D" LAYER - HF ATTENUATION LEVELS
---
AURORA - NORTH POLE - SHORT PATH